Links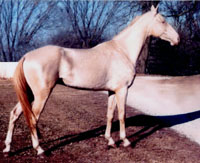 Contact Information
Sharon Saare Saddles
4424 West County Road 4
Berthoud, Colorado 80513
303-678-5968
email
sharonsaare@juno.com
Happyback Pads
While a pad cannot create saddle fit, the Happyback does a terrific job of refining the fit.

In production since the 1970's, it is available in english, multi-purpose, black and white cotton quilt, western wool felt in 30" and 32" lengths, and endurance.

Other therapuetic pads depend on internal material crushing to achieve correction. Often the result is simply lack of stability. The internal fluid cells of the Happyback force correction without the bounce. In time, many English saddle panels crown. The multi-purpose english Happybacks absorb the crowning, which dramatically increases the panels bearing surface.

The shock absorption characteristics of the Happyback makes them a favorite of ropers.

Packers, too, know they are a must for heavy loads and heavyweight riders.

Our pads are also washable....

The woolfleece and cotton quilt pads are machine washable.

Woolfelt pads and felt liners can be simply hosed off and allowed to drip dry.